Sharon E. Cathcart is an award-winning, internationally published author who writes historical and paranormal fiction, essays, and non-fiction.
Q: Where do you get your ideas?
SEC: The truth is that they can come from anywhere. Inspiration has come from songs, news stories, books I've read, or even a phrase that occurred to me. As a historical fiction author, I'm always looking for ways to show the human face of actual events.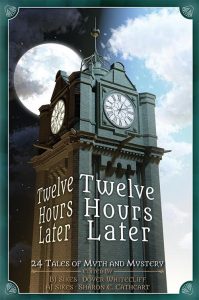 Q: What's the story behind your latest book?
SEC: "Bayou Fire" is my first full-length historical paranormal. The two protagonists have had recurring dreams since childhood about a fire … and once they meet, all the pieces fall together.
The inspiration was an actual historical event: the LaLaurie mansion fire in New Orleans, which happened on April 10, 1834. I really enjoyed both the research and the writing on this one.
Q: Why historical?  What draws you to the genre?
SEC: I think what draws me most to historical fiction is the glimpse into how people lived in other eras. I have always found that fascinating. Social mores, fashions, even food! I'm finishing up a course on royal food and feasting from the Tudor to Victorian eras. I enjoy the process of researching a story, and I love the richness of detail that comes from doing that work. I'm one of those rare birds who treats research as a treasure hunt rather than a chore; the hardest thing I experience is limiting how much research I do, because it is far too easy to go down a rabbit hole and never do any writing!
 Q: What excited you about Twelve Hours Later and the other anthologies in which you've participated?
SEC: Short fiction is an art form in and of itself.  Expressing a full story in a little bit of space, means distilling the true essence of your message in a way that someone can read on their lunch hour and still feel like they got a complete picture.  Having the opportunity to challenge myself within the framework of the anthologies' themes made me work hard to present fully developed characters and concepts within those constraints, and it was a lot of fun!  That the anthologies benefited literacy programs was the icing on the cake.
Q: What do your fans mean to you?
SEC: I am grateful to each and every reader … each and every fan on my website or Facebook page … all of you! Knowing that my stories make a difference in your lives makes me smile every single day.
Find out more about Sharon at: sharonecathcart.weebly.com