Is time travel real? Doctor Petronella Sage is determined to find out. So is Justin Bremer, the young scholar in the far future tasked with reviewing Dr. Sage's timeline. Justin observes as the Doctor repeatedly electrocutes herself in order to fling her consciousness through time and space, claiming death is no barrier to science
Listen to an excerpt from TransMIGRATIONS by Eddie Louise.


Nearly 2000 years in the future, scientists have developed a virtual reality machine whereby historians can watch the past unfold. Justin, a young scholar is tasked by the Les Charges de L'Affaires to study Doctor Petronella Sage, a Victorian galvanist. Dr. Sage, in an effort to advance the science of limb reattachment is electrocuted in a laboratory accident and her consciousness is transferred into a dead body on the battlefield of Auerstedt. This discovery makes her question if she has discovered time travel and wins her unlimited funding from the Les Charges de L'Affaires. Justin and Petra, separated by two thousand years, become entangled by the machinations of this mysterious agency and by their shared obsession with time itself. Frankenstein meets Quantum Leap.
This excerpt is available on iTunes.
TransMIGRATIONS is written by Eddie Louise
Published by EDGE Science Fiction and Fantasy Publishing
Copyright by Eddie Louise
Audio Copyright Twinstar Studios
Read by: Eddie Louise, head writer of The Tales of Sage & Savant
---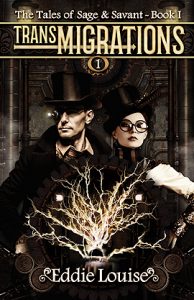 Learn more about Eddie Louise
Website: Eddie Louise
Follower her on Facebook and Twitter
Eddie Louise has had a lot of experience writing. For example, as a child, she composed dozens of nonsense songs to keep herself company as she herded cattle across the lonely plains of Wyoming. By the time she was sixteen years old she had written nearly one hundred Memoranda of Understanding to various teachers and school administrations. She wooed her high-school sweetheart with overly dramatic poetry, and short stories full of pathos and ennui. Marriage and children precipitated a move to California where discovering the theater led her to write melodramatic plays full of artful alliterations. This in turn, led to composing the book for her first musical as she relaxed on the beaches of Monterey. A temporary career writing soul-sucking corporate literature sent her running far away to Edinburgh Scotland, where the atmosphere, the castle and the alcohol combined to inspire a jazz vocal fantasia based on plainchant, a string quartet about a dripping faucet, a short dramatic film about a magical camera, an opera based on the Fates, an autobiography that was not her own, and two novels that live happily in a trunk where they have settled down and started a family. Since that time, she and her lifelong love have landed in sunny Southern California where she makes a living as a ghostwriter and continues to try out different forms of authorship including, but not limited to English as a Second Language Textbooks, Memoir, and a monthly speculative fiction audio-drama — The Tales of Sage and Savant. Like her characters, she often becomes obsessive and the book series grows out of her desire to know what happened in the gaps for Sage and Savant.