An essay by Dr. Henrik Ahlstrom, as provided by Dantzel Cherry
("Birthing Fire" previously appeared as the 2nd place winner in the Story Star Publishing Short Story Contest in 2012; reprinted in Mad Scientist Journal: Spring 2017)
Listen to an excerpt of Birthing Fire by Dantzel Cherry


After earning a PhD in Cell and Molecular Biology from Stanford University, Dr. Henrik Ahlstrom completed a post-doc at University of Virginia Center for BioTechnology and another at Scripps Research Institute as the primary investigator for the groundbreaking paper, Directed Induction of Foreign Tissue Growth in any Eukaryotic Host. After a short stint as Chief Scientific Officer for Bilon Therapeutics, he has since been involved in an undisclosed research project for a private laboratory in Belgium.
This excerpt is available on iTunes.
Birthing Fire is written by Dantzel Cherry
Published by Mad Scientist Journal
Copyright by Dantzel Cherry
Audio Copyright Twinstar Studios
Read by: Chip Michael from The cast of Sage & Savant
---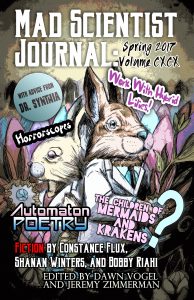 More about Mad Scientist Journal
Find out more about Dantzel Cherry
By day, Dantzel Cherry teaches Pilates and raises her daughter by day. By night and naptime, she writes. Her baking hours follow no rhyme or reason. Her short stories have appeared in Fireside, InterGalactic Medicine Show, Galaxy's Edge, and other magazines and anthologies.
Webpage: Dantzel Cherry
Follow her on Twitter