Kirsten Weiss writes genre-blending cozy mystery, urban fantasy, and steampunk suspense, mixing her experiences and imagination to create a vivid world of magic and mayhem.
Q: When you're writing, do you brainstorm or build on ideas that you get from what is going on around you?
KW: Newspaper articles, gossip, overheard conversations… I enjoy taking two (or three) separate ideas and mashing them together to see what shakes out.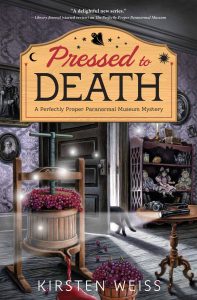 Q: Tell us about your latest book.
KW: Pressed to Death is a cozy mystery set in a wine country paranormal museum. It's the second book in my Perfectly Proper Paranormal Museum series. The museum owner thinks she has the perfect exhibit for the local harvest festival – a haunted wine press. But then the original owner accuses her of stealing it, and soon thereafter turns up dead in one of those giant I-Love-Lucy wine presses. (He isn't actually pressed to death though, because that would be a little too gross for the cozy mystery genre).
Q: That sounds both funny and scary. What made you decide on that setting?
KW: I've always loved historicals, and since I grew up in California with its Gold Rush history, it seemed natural to set my Sensibility Grey steampunk novels here. The beauty of historicals when it comes to mystery and suspense, is you frequently don't have a police force to rely on, so it gives the amateur detective a much stronger motive to stick her nose into the crime.
Q: How is writing short stories like "The Honorable Eddy," which was read by the Sage & Savant cast, different from writing novels?
KW: I find short story writing extremely challenging. It's much easier to write novels, where you can develop a character arc over the course of hundreds of pages. So writing stories for the Thirty Days Later and other steampunk anthologies published by Thinking Ink really stretches my writing muscles. It also gives me the opportunity to play more with the minor characters in my steampunk novels.
Q: How do you like to connect with your readers?
KW: They make me feel so grateful! I love being a writer, but I wouldn't be able to do it full time without my fans. And it's so delightfully easy to meet and correspond with them – conversation flows easily when there are books to discuss!
Find out more about Kirsten Weiss at:
KirstenWeiss.com or on Twitter and Facebook