Q: Who is The Cog Is Dead?
TCID: The Cog is Dead is a band of time-traveling musicians who have journeyed from the Victorian era to various time periods and places around the world to share their music with the world and encourage people to return to using steam powered machines and clockwork technology. As a group who has traveled to so many different eras, we've heard a lot of different musical styles and we reflect that in the diverse music that we make.

Q: How long have you been making music together?
TCID: The band was founded by singer/songwriter John Sprocket in 2006, so this year (2016) marks the 10 year anniversary of The Cog is Dead. Bassist Bradley Harrington III joined the band in January of 2014, and drummer Renate Goodwin joined shortly after in May 2014.
Q: For each of you, name your biggest musical influences and tell us what inspires you about them.
JOHN: My influences are vast and diverse – which is reflected in the eclectic songs I write for the band. I grew up on a strange mix of 50s/60s music, especially The Beatles, and novelty/comedy music like "Weird Al" Yankovic. I'm influenced by all sorts of bands and artists including Queen, Billy Joel, Green Day, Barenaked Ladies, They Might Be Giants, Danny Elfman/Oingo Boingo, and plenty of others.
BRADLEY: My biggest influence musically or at least in specific what made me take up bass…I'd have to say would be Geddy Lee of Rush, John Entwhistle of The Who, Justin Chancellor of Tool, Marcus Miller, and Stanley Clarke. They inspire me because they have shown me that bass can be a complex and integral part of a band, not just stuck in the back holding down the rhythm while the drummer, guitarist, and singer get all the limelight.
RENATE: John "Bonzo" Bonham. His drumming style was always awesome and I could get lost in his solos. Jimi Hendrix because he was a self-taught musician like me, and then Bob Marley because he used his music to spread love and positivity.
Q: To build on the last question, name your biggest NON-musical influences and inspirations.
JOHN: Well I definitely love steampunk. I discovered steampunk around the time of starting the band by stumbling across an awesome steampunk guitar on a google image search. I loved the way it looked and sort of dove head-first into making a steampunk themed band. Other than that I guess non-musical influences would include visual art influences. I'm a big fan of the photographers Dave Hill and Annie Leibovitz. They both create amazing portraits with a hyper-realistic, almost painted fantasy look to them.
BRADLEY: Non-musically is a hard one. When I was first getting into steampunk, I was pointed to Princess Mononoke and Howl's Moving Castle by Hiyao Miyazaki. The artistic styling I'd say is what brought me into my enjoyment of steampunk. Other than that just the events we get to visit have been influential. Meeting new people and seeing all the cool costumes and props that they bring with them is just fun. I think every con I go to I find a way to expand on my stage costumes.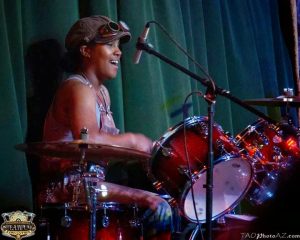 RENATE: I don't think I could actually think of a non-musical influence because my life revolves around music. Music influences everything I do. I guess I can say, Tony Hawk because he's a lot older now but still skating and doing what he loves. I want that to be me in the future.
Q: You get to (have to) travel a lot for your music. What is the strangest place you have ever performed?
JOHN: Yes, we're fortunate that we get to travel to so many amazing places. We've seen more of the United States in the past 2 years than in all the years our 3 lives combined. Thankfully we've had mostly great experiences, and no one has made us perform anywhere too bizarre. There was one gig early on that booked us to perform at an art museum that was having a steampunk art exhibit. When we arrived and started setting up our gear (we brought guitars, amps, drum, and a PA system) someone at the museum walked over to us with a worried look when he saw all of the equipment we had. Apparently, there was a miscommunication about booking the entertainment. I'm still not sure who didn't communicate what, but this guy (who was not the one who booked us) told us that we should really just be background music and that we should be playing "pretty much on mute." Of course, you can't really "mute" a drum kit, but we did our best and struggled to play as quietly as possible. And even as we were playing super softly he would still frequently walk over with that worried expression and ask us to turn it down. Thankfully as the night went on the people in attendance were really enjoying the music and wanted it turned up (so that they could hear it) and some of the artists in the exhibit even stood up for us and we were able to play the rest of our set at a more reasonable volume to a very appreciative crowd. To this day I'm still baffled that they would book a rock band and then ask for practically silence.
BRADLEY: Strangest place was probably Tulsa, Oklahoma. While it was a fun crowd to play for, we had a rather odd sideshow act open up for us and was frankly uncomfortable to be around.
RENATE: I've traveled a lot with Cog. So far there haven't been any places that were really weird yet. Well maybe except for an opening freak show in Oklahoma where this guy was stapling his balls with a staple gun….
Q: As a follow-up to that last question, is there a venue, event or a city in particular where you haven't yet performed, but are dying to?
JOHN: In the steampunk and convention scene we've been extremely fortunate in that we've been able to perform at pretty much every con I've ever dreamed of – Steampunk World's Fair, Wild Wild West Con, and even in 2014 getting selected for a main stage slot at Dragon Con! And we've also performed with many of our favorite steampunk groups who we admire and influence us like Abney Park, Steam Powered Giraffe, Professor Elemental, Marquis of Vaudeville, and more. One dream has always been to finally go to England. I've been to there once before and I've wanting to do a concert there for years. And I suppose really the dream of most independent bands would be to play at a major venue or arena – but that's something that is realistically only possible for a band with a massive following or major label. Maybe someday we'll get booked to open for someone at an arena.
BRADLEY: Well, the place I would be dying to go to is Ireland, it's pretty high up on my list of places to visit. But in the US I really want to visit New Orleans or New York.
RENATE: I'm so hoping to play at Red Rocks Amphitheater in Colorado one day. That would blow my mind! It's such a beautiful venue.
Q: Musicians are famous for putting outrageous requests in their contract riders. If you ever became as big as the Stones, Motorhead, or Coldplay (fishing for a broad audience here – lol), what demands would you put in your rider?
JOHN: Haha. Our rider right now only has simple, reasonable requests. It's hard to think of anything ridiculous I'd want to add since I'm usually just focused on having a good show. I dunno, maybe a steak dinner at every show. And a new pair of steampunk goggles.
BRADLEY: Hmmm, I try not to be a diva but I'd try and be funny and demand expensive bottles of water but have them dump out the expensive water and fill the bottles with tap water. I know, not very crazy…
RENATE: The only thing I'd ever really want is tacos and guacamole
Q: The artwork on your website, albums and video efforts is amazing. Can you tell us about your aesthetic and how you put together these visuals?
JOHN: Thank you very much. Since we're an independent band everything is D.I.Y. for us. I've got a background in graphic art and filmmaking and any skills I've learned over the years I put to use in creating any and all materials for the band whether it's graphic and logo design, illustration, videography, website layout, etc. I've just always had a passion for art since as far back as I can remember and I've always tried to view things with a creative mindset. The aesthetic for The Cog is Dead definitely starts with my love of steampunk. Specifically, large steam-powered machines, gears, scaffold, and things like that. I've also always wanted everything to look as professional as possible, so even before we had released any music I did photo shoots and created lots of promo materials. I've always liked to present everything in the best way possible, and I'm really picky about getting everything to look just right.
Q: Your albums go from strength to strength, but a common thread is the story song; are you drawing on the English music hall tradition here?
JOHN: Well I've always been a huge fan of a wide range of musical styles, and we often say that our concerts are a bit of a musical variety show. Our first album is set up loosely in the style of an old radio show going from story to story. And really one of the reasons for coming up with the backstory of our group being "time travelers" was partly an excuse to write songs in any musical genre we wanted (and also because we love time travel stories.) As someone with eclectic musical tastes I've never wanted to be tied down to playing only one genre of music, and I get bored with bands where every song sounds the same. My biggest influences are bands like The Beatles, Queen and even Weird Al, whose albums are FILLED with variety and give you something completely different (yet still thoroughly enjoyable) on every track.
Q: You latest album Carnival of Clockwork is chock full of great tunes, and has some awesome special guests. Can you tell us about it?
TCID: Thank you! Yes, we're extremely proud of Carnival of Clockwork. I think it's the most fun I've ever had working on an album partly because I think there are more up-tempo songs and bigger energy on this one than our previous two, and also because it's the first time we've collaborated with other steampunk musicians. Every guest brought something amazing to the album. On our Irish-punk inspired song "Farewell My Old Friend" Daniel O'Ryan of the band Clockwork Knotwork added in some electric bagpipes, while Nathaniel Johnstone laid down some fiddle, both giving the song the feel we were hoping for. On "The Gumbo Song" we wanted to mix to very different things – New Orleans Zydeco with Chap Hop! So we wrote this very bouncy and happy song about some incredible gumbo with amazing healing abilities and then asked Professor Elemental to add in a rap verse in the middle. We left the lyrics for his part completely up to him, so it was an awesome and hilarious surprise when we finally heard what he had recorded. And the song "The Incredible Jelly Donut Juicer" was written as sort of a fusion of the styles of Johnny Cash and Steam Powered Giraffe, so we were THRILLED that Steam Powered Giraffe was interested in collaborating with us, as their vocals made the song exactly what I'd dreamed it would be!
Q: Death is a huge theme in Sage and Savant – they die in every episode. Tell us what inspired your song DANGER ON THE DANCE FLOOR.
JOHN: Haha, well I'd always wanted to do a tango. And while working on the music the tone just sounded a bit sinister to me, as if danger was lurking somewhere. And of course, since the tango is also a dance I was trying to think of a way of combining a feeling of imminent danger with dance. So the story was inspired by the music itself.
Q: Many of your songs, like the background stories to our episodes, are based on real historical situations. What is the strangest thing you have discovered in your research?.Is there a song about it? OR Will there be a song about it?
TCID: A lot of our songs are inspired by history. They aren't usually written about specific events, since our stories are fictional, but they are definitely inspired by certain themes or things from the past, such as the dangers of working in old factories, prisoners being wrongfully exiled, and the invention of flying machines. When writing The Death of the Cog I spent a lot of time trying to find out WHO invented the digital clock since I wanted to make a song about them and portray them as a villain. I looked quite a bit, but never found the name of a specific person credited for making the first digital clock. But I did find an article that said the first digital watch was made by the Hamilton watch company. The name had a nice ring to it, so I used the name "Mister Hamilton" in the song.
Q: I FB stalk you and was totally taken in by your April Fools prank last year. How did the idea for that come along?
JOHN: Hahaha, thank you! I forget exactly where the idea came from, but I remember thinking it would be funny if we did a prank where we announced that we were changing our image and would no longer be steampunk. I think the idea may have started as writing a joke announcement in a post. And the more we talked about it the idea got bigger and bigger to the point where we did a photo shoot, made a full entertainment news report video with music video clips, made vague posts the night before April 1st to match up with what is seen in the news clip, changing our website, facebook, twitter, tumblr, and youtube accounts, AND creating ACTUAL new merchandise with our "new look" that people could buy. I figured if we were gonna do a prank we should go all out!
Q: Film is a big part of what you do – from concert background videos to short films and visual jokes. If you had all the money and time in the world to create the perfect COG IS DEAD performance extravaganza – what would that look like?
JOHN: Thanks! I'm a huge fan of big theatrical entertainment and I love when a show is filled with surprises. I think we actually came VERY close to putting on my idea concert extravaganza last summer when we shot our concert movie (which is coming out later this year.) We performed in a beautiful vaudevillian theater with a large movie screen above the stage. We had costume changes, more comedic videos, guest performers including Nathaniel Johnstone, Tempest, Clockwork Knotwork, Jean-Marie Glazer on cello, DJ Dr. Q as MC, and an incredible performance troupe from Orlando called Phantasmagoria who choreographed dances for Danger on the Dance Floor and Freak Show, and we even had a puppet heckle us from a box seat! It was really an amazing night and the show was the result of the hard work of tons of talented individuals who helped us put on a great show. And the whole thing was filmed by a professional video crew, so everyone can see and enjoy the show when it comes out this winter!
Q: Do you have a fan club? Or can we apply to be roadies? Basically – how do we get to hang with you guys more often?
TCID: We don't have a fan club, but we're on Facebook which is a great way to follow us or get in touch with us. Our facebook page is facebook.com/thecogisdead – there you can find out when any upcoming appearances will be!  And you can also find us on Instagram, twitter, tumblr, and youtube.
Q: Last question, I'll be serious. Where can fans buy your music if they are not fortunate enough to have a show in a location near them?
TCID: Our music is available on CD through Amazon.com and most digital music stores including iTunes. Thanks so much!